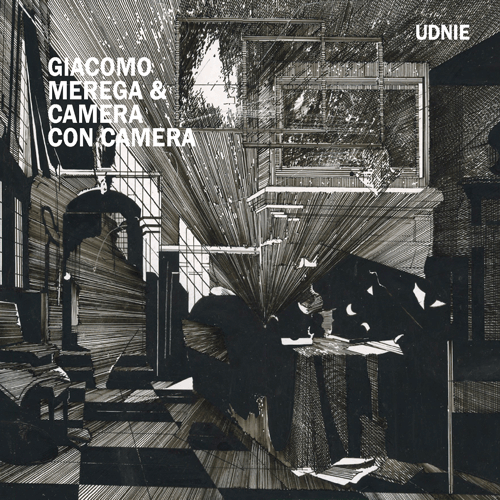 Giacomo Merega - bass guitar and chanting
Rema Hasumi - voice and synth
Todd Neufeld - guitar
Recording Tracks 1-3 : Wes Matthews at The Albemarle.
Recording Tracks 4-9 : Todd Neufeld in the comfort of his living room.
Mixing: Nathaniel Morgan
Mastering: Kato Hideki
Executive Production: Rogé
Drawings: François Van Damme
Giacomo plays First Act and Moffa bass guitars, and uses Ernie Ball strings and Mono cases.
Todd plays a McCurdy guitar.
Available on CD

(ENG)
UDNIE presents a set of music originally commissioned to accompany a dance piece by choreographer Chia-Ying Kao. Subsequently, the music was developed into a standalone set of compositions for a setting with Rema Hasumi and Todd Neufeld. The trio is called Camera Con Camera and the polysemy of the word 'camera' suggests soundscapes imagined to breathe well in a small room, with intentional restraint and focus on the objectiveness of multilayered tones and distillate melodic statements. For contrast, the recording opens with three solo bass guitar nocturnes recorded by Merega, which instead feature extreme virtuosic density and thickness.

----- LINER NOTES

There was a time, maybe 20 years ago or more, when Genoa-born Giacomo Merega dreamed of becoming a straight jazz bass player. Exposure to fellow renegades at the Berklee College of Music, like guitarist Bryan Baker, and later to his New England Conservatory mentor Ran Blake, took him down a rabbit hole of searchand-discovery that led him through the looking glass to an alternate universe of sound—one that cherished tones, textures and patient exploration above hip reharmonization and burning virtuosity. And there's been no looking back for Giacomo.

After relocating to New York, he fell in with a kindred group of Brooklyn-based musicians on the improvising scene who were more committed to sharing in sonic rituals than swinging their way through The Real Book, including guitarist Marco Cappelli, trumpeter Joe Moffett, saxophonist Noah Kaplan, drummer Jason Nazary and a host of others. Through a series of daring recordings, beginning with 2008's The Light and Other Things (a trio outing with saxophonist Kaplan and slide guitar master David Tronzo, now a full professor at Berklee) and continuing with 2009's Descendants (with Kaplan, Nazary and guitarist Joe Morris), 2010's Watch the Walls Instead (an intriguing soundscape made with Cappelli and Kaplan), 2014's Crows and Motives (with Kaplan and Moffett), Kip Hanrahan's 2018 recording Crescent Moon Waning and most recently 2020's austere sounding ceremonie/musique by Josh Sinton's What Happens in a Year trio with guitarist Todd Neufeld, Merega established a signature sound with a unique instrument — his warm-sounding 4-string First Act electric bass guitar — and an unorthodox right hand technique (he anchors his thumb just above the front/neck pickup, freeing up four fingers to activate the strings in a kind of furious fl amenco fashion).

That unique approach and sound are fully on display on the three meditative solo bass pieces that open Udnie — "Due Notturni Secchi" (Pts. 1 & 2) and " Sonno Nelle Campane." The album title, by the way, is the name of a Francis Picabia painting that struck Merega as a teenager and has remained with him over time. "There's some kind of attractive dichotomy there at play," acknowledged the composer. And while the fi rst two solo pieces were performed on his trusty First Act electric bass guitar, the third one, "Sonno Nelle Campane" was performed on a beautiful arch top bass made for him by Italian luthier Nico Moffa.

On those solo bass pieces, Giacomo forcefully hammers-on notes with the left hand while also deftly negotiating challenging arpeggios and intervallic leaps with his left hand fretting fi ngers. Meanwhile, his right handed fi ngerstyle approach is clean and exacting throughout. The effect of this busy 'doubling up' of notes is to create the kind of density one associates with pianist Cecil Taylor in full whirlwind mode. "The technique I use here is traditional, although it's extended since I pluck with four fi ngers in the right hand," he explained. "A lot of the articulation comes from the left hand though. But it's all standard tuning and 'traditional' technique, where one of the goals is to pursue the idea of a quasi-cluster played horizontally creating extreme density, and to explore the edge of noise without using electronics but only the bare instrument.

"Technically, this kind of playing started coming together for me towards the end of my Boston years, when I was at NEC studying with classical guitar virtuoso Eliot Fisk and translating some of his approaches onto the bass," he continued. "In those years I was also playing with David Tronzo, studying and playing with Joe Maneri, Anthony Coleman and Joe Morris (Joe and I later got together in Noah Kaplan's quartet), studying avant-garde composers like Bruno Maderna and György Kurtág with Steve Drury. Those were years of great change for me, stylistically and conceptually, which lead quite naturally to my move down to New York when I graduated in 2007."

The set of six compositions that follow were originally commissioned for a dance piece by choreographer Chia Ying Kao and are performed here by Merega on electric bass guitar (and chanting on one track) in a highly conversational setting with his What Happens in a Year bandmate Neufeld on guitar and the extraordinary vocalist and synth player Rema Hasumi. Collectively, they are Camera con Camera.

"Forest - Chant - Viola Sleeping," named for Merega's daughter, is a very gentle, meditative piece; like a song you might hear during satsang at a yoga studio. "This piece was inspired by an early morning jog in the Taroko mountains in the south of Taiwan in the summer of 2018," he explained. "I came across a temple where some monks, hidden in a dark area of the temple, were chanting. The second half of the piece is improvised but with directions as to the content and orchestration. I have many important-to-me references for a soundscape like that, from Morton Feldman to Evan Parker, some of John Cage's music for string quartet or Mark Hollis from the band Talk Talk."

"'dard" is another example of beautiful, zen-like call-and-response between the three members of Camera con Camera. Said the leader, "My musical interaction with Todd comes from playing together in What Happens in a Year, so we know each other very well in our respective instincts and choices when we improvise. Rema joined us when I wrote these pieces, and she found her place in the soundscapes very naturally from the very beginning."

"The Dziga Vertov Complex" is a good example of the kind of "jumping off the cliff" trust that takes place in the most wide open group improv situations. Neufeld's edgy guitar work here is outstanding, and Merega is in constant dialogue with him throughout the piece. "This one was more programmatic in using a tone row and some startling blocks of sound and simplistic rhythms, not very nuanced," explained the composer. "But it also featured some guided and very quiet improvisation, very delicate and detailed. In a playful way, it was like Boulez meeting Feldman, at least in my head."

Rema's hypnotic, soaring vocals on "Anthropometrie" conjure up favorable comparisons to the extraordinary vocalist Theo Bleckmann, whose stunning collaborations with guitarist Ben Monder also straddle the composition-improv divide quite organically. "I met Rema through Todd and I'm a big fan of hers," said Giacomo. "I would say that the main idea behind this piece was to feature her long singing tones against the resonances of the arpeggios."

"How We Like to Sing Along," though full of dissonances, is perhaps the most conventional song form on the album. As Merega explained, "This is the only piece written much earlier than the rest. I originally wrote it for three alto saxes, bass and cymbals in 2008, loosely inspired by an Anthony Coleman composition (Anthony and I made a record together in 2012, probably my most atmospheric, titled Watch the Walls Instead). I decided to put it on this record in spite of the differences with the rest of the material."

The dramatic 10-minute closer, "A Mask Is But a Sum of Lines" is a hauntingly beautiful number brimming with a sense of mystery. "The title comes from an Andre Malraux book on Picasso's masks, describing that primordial quality that is so archetypical," said the composer.

A compelling work, Merega's debut for the Belgian alternative and improvised music label el NEGOCITO Records is a stirring triumph in the bassist-composer's burgeoning discography. It's a pure expression of his highly personal vision on an instrument pioneered by the likes of such virtuoso bassist-composers as Steve Swallow and Jaco Pastorius. But that same electric bass guitar conveys a wholly unique vibe in Giacomo's hands.
-- BILL MILKOWSKI
Bill Milkowski is a longtime writer for DownBeat magazine.
He is also the author of biographies on Jaco Pastorius, Pat Martino and Michael Brecker.
Press
"... ." ..., ... (../../202.)
Solo bass guitar
(Giacomo Merega)
1. Due notturni secchi - I
G. Merega - 01:44

2. Due notturni secchi - II
G. Merega - 01:34

3. Sonno nelle campane
G. Merega - 03:24
Camera con Camera
(Rema Hasumi, Todd Neufeld, Giacomo Merega)
4. Forest - Chant - Viola sleeping
G. Merega - 08:48

5. 'dard
G. Merega - 03:40

6. The Dziga Vertov complex
G. Merega - 08:10

7. Anthropometrie
G. Merega - 06:48

8. How we like to sing along
G. Merega - 04:19

9. A mask is but a sum of lines
G. Merega - 10:10
total time - ..:..
eNR075 © 2023
Giacomo Merega: Aegruduse Music, ASCAP
Buy CD