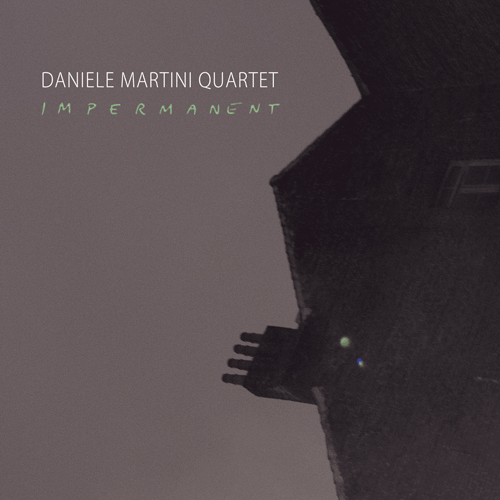 CD

Daniele Martini - Saxophone
Bram De Looze - Piano
Manolo Cabras - Double Bass
João Lobo - Percussion

Recording: Nicolas Lefèvre at Sunny Side Inc
Mixing & Mastering: Daniele Martini
Executive Production: Rogé Verstraete for el NEGOCITO Records
Cover Picture: Istar Karamemet
Inside Picture: Daniele Esposito
Available on CD
release the 11th of July 2020
(ENG)
Contemporary jazz with depth and taste for adventure. Led by saxophonist Daniele Martini and revolving around his repertoire, the music is enhanced by its outstanding performers and their exceptional capacity to blend together.
Subdued and understated at times, energetic and flamboyant at others the band sounds united in the common intent of delivering spontaneous invention at its best. Drafty, almost impalpable themes, ethereal melodies, or more demanding and structured songs, everything becomes a canvas on which music is made in the present moment, spreading its unique sense of beauty.
Each song is interpreted with a deep commitment in underlining its unique character: the lyricism of For Those Who Stay, the rhythmic refinement of the title-song Impermanent, the harsh mood of Cells, the mellow, melodical one of Auroshika, the calm thematic development of Fang Song Song, concluding with the vibrancy of Born Work Happy Sad.
The result is an absorbing, engaging and beautiful journey through the endeavours of the quartet's unique sound, which already since this first effort displays a great quality and sense of direction.

Daniele Martini, advocate of sound experimentation, is active in jazz as well as in free improvisation, afrobeat or afro-latin punk. As an eclectic saxophonist, managed to play in various countries of the world with a number of great musicians, from world-class cutting edge improvisers to afrobeat legends like Tony Allen and Oghene Kologbo and recorded with Nate Wooley, to name just a few.

In his quartet he is surrounded by three outstanding musicians from the Belgian contemporary scene: the recognized super talent and pianist Bram De Looze (LABTrio, Ben Sluys Quartet), the double bass player Manolo Cabras (Poalo Fresu, Toots Thielemans, Charles Gayle, Marshall Allen, ...) and the Portuguese drummer João Lobo (Enrico Rava, Oba Loba, Pedro Guidi, ...). A beautiful alchemy arises in the quest for innovative music in the here and now. Just like Miles Davis' second quintet, the quartet alternates melodic with rhythmic moments and gives room for interaction and individual interpretation.
Press
"Et des sonorités chaudes, intimes, sensuelles. La voix du sax est veloutée, le piano est créatif et souvent inattendu, la contrebasse est subtile, en motifs de contrepoint, la batterie colore l'ensemble. La musique entrouvre la porte du free jazz sans jamais s'y engouffrer vraiment, sans excès. On est plutôt dans du cool d'aujourd'hui, mais sans aucune froideur. Il y a de la tension dans cet album, mais contrôlée, enrênée, et c'est ça qui est très réussi. A écouter attentivement, un verre de calvados ou de vieux cognac à portée de main." Jean-Claude Vantroyen, Le soir Mad p.18 (10/11/2020) ***
"Heel fijn om in rond te dwalen." Jordi De Beule, Jazz & Mo