saturday 29 October
22h
MOKER is 10 years young
maybe there should be a celebration Concert
at Pimpz, Schepenenvijverstraat 2B, Ghent
5€ (or take day/weekend ticket)
Mathias Van De Wiele - guitar
Bart Maris - trompet
Dajo De Cauter / Lieven Van Pee - trompet
Giovanni Barcella / Merlyn Paridaen - drums
Jordi Grognard - sax and klarinet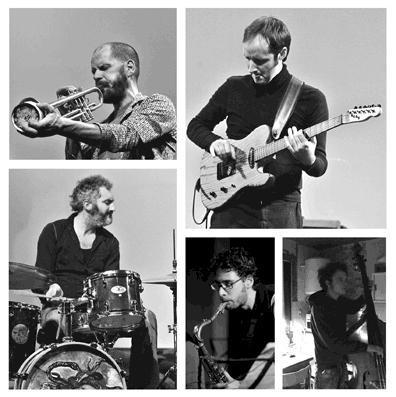 Moker (Flemish for sledgehammer) is a Belgian-Italian jazz collective and it's musicians are jazzfanatics to the bone. All of them are active in the Belgian-mondial music scene and well recognized for their work. They have a reputation for their energetic and convincing performances with a set of original compositions and improvisations.
Their music roots entirely into jazz, with focusses on free improvisation and songwriting. Moker tries to tell a story through it's songs, but as in all good stories some roads don't keep up straight.
This results in a dynamic set, filled with contrasts and moods which merge together or switch over to one another. Offering the listener a ride on their wide musical trip.
Moker was formed in October 2000 by the impulse of Mathias Van de Wiele (guitarist-composer). They aimed to create a group that could function as a laboratory in which the musicians could experiment with own compositions as well as open improvisational structures. This way of seeing things or working together still lives untill today. They consider their research process as an essential part of the game. So not only the final product is important, but also the work in progress.
Being a band for nine years gave Moker the opportunity to develop a unique personal sound. Many listeners in Belgium and abroad (Italy, Holland, Portugal, France) have been enjoying their music and performances. In the true spirit of this band every public appearance is an adventure and a singular event. Don't expect to hear routineous playing nor predictable structures. The keywords are organic, contrast, construction and deconstruction….