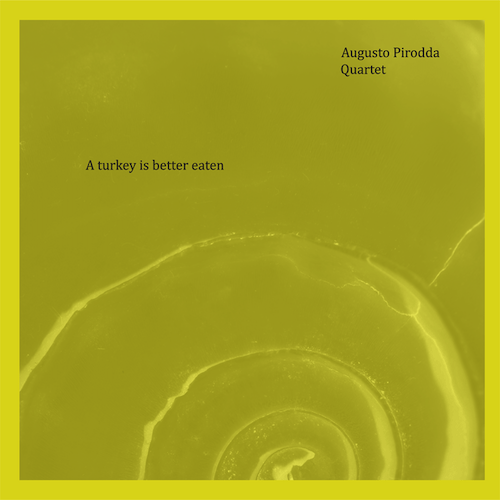 Augusto Pirodda - piano
Ben Sluijs - alto saxophone
Manolo Cabras - acoustic bass
Marek Patrman - drums
Mix & Master: Manolo Cabras
Production: el NEGOCITO Records
Design & Lay Out: Dries Verstraete
Available on CD and Vinyl
release 28 november 2014
(ENG)
Recording a Trio CD with sidemen the likes of bassist Gary Peacock and drummer Paul Motian? No, not only Keith Jarrett has taken that opportunity. The Italian Brussels based Augusto Pirodda must be about the best kept secret in the Belgian jazz scene.

Augusto Pirodda knows how to choose his fellow musicians well. The Italian bass player Manolo Cabras has been for over 20 years at his side. Cabras has been on stage and recorded with the Toots Thielemans Quartet, Manuel Hermia Trio, Erik Vermeulen Trio ... Czech drummer Marek Patrman travels all over Europe, but is also an indispensable musician on the Belgian jazz scene. Cabras and Patrman are the proverbial 4 peas in a pod. They form the rhythm section in lots of formations like the Ben Sluijs Quartet, ... Quartet and Erik Vermeulen Trio. Ben Sluijs, one of Belgium's most lyrical and poetic jazz saxophonists makes the quartet complete.

On piano Pirodda's playing (often simple and melodic, but also at times impetuous and nervous) fits remarkably well with the musical sensibility of Ben Sluijs . The contrast between these two worlds makes their music very open and unpredictable. Cabras and Patrman, who can take both a leading or a supporting role can ensure that piano and sax enjoy maximum freedom . In short, the Augusta Pirodda Quartet makes music that is constantly evolving and feeds the creativity of all four musicians.
(NL)
Een Trio-cd opnemen met als sidemen bassist Gary Peacock en drummer Paul Motian? Nee, het is niet enkel Keith Jarrett gegeven. De Italiaanse Brusselaar Augusto Pirodda moet zowat het best bewaarde geheim in de Belgische jazzscène zijn.

Augusto Pirodda weet zijn medemuzikanten goed uit te kiezen. De Italiaanse bassist Manolo Cabras speelt al meer dan 20 jaar aan de zijde van Pirodda. Cabras speelt concerten en nam cd's op met o.m. Toots Thielemans Quartet, Manuel Hermia trio (in 2012 op tournee met JazzLab Series), Erik Vermeulen Trio… De Tsjechische drummer Marek Patrman reist heel Europa af, maar is tevens een niet weg te denken speler in de Belgische jazzscène. Cabras en Patrman zijn de spreekwoordelijke 4 handen op één buik. Ze vormen de ritmesectie van onder meer Ben Sluijs Quartet, Jeroen Van Herzeele Quartet en Erik Vermeulen Trio. Ben Sluijs, één van Belgiës meest lyrische en poëtische jazzsaxofonisten, maakt het kwartet compleet.
Het pianospel van Pirodda (vaak simpel en melodisch, maar bij momenten ook onstuimig en nerveus) valt opvallend goed samen met de muzikale gevoeligheid van Ben Sluijs. Het contrast tussen deze twee werelden maakt hun muziek heel open en onvoorspelbaar. Cabras en Patrman, die zowel een toonaangevende dan wel ondersteunende rol kunnen aannemen, zorgen ervoor dat piano en sax een maximale vrijheid genieten. Kortom, het Augusta Pirodda Quartet maakt muziek dat voortdurend evolueert en zich voedt met de creativiteit van alle muzikanten.
"Augusto Pirodda is een minimalist. Hij speelt weinig, maar welgekozen noten. 'Kiezen' is misschien het verkeerde werkwoord. Pirodda is een vastberaden improvisateur die op het moment vertrouwt. De noten die hij kiest, zijn de eersten; en vanaf dat moment leiden intuïtie en emotie zijn vingers." – Thomas Conrad, Jazzwerkstatt
"What I hear in your music is the essence of improvisation. Spontaneity is only possible if we forget about ourselves and listen. You, Sluijs, Cabras and Patrman really express this essence with joy, passion and energy." Gary Peacock
Press
"Cet album est comme une dinde : riche. Il y en a pour plusieurs jours d'écoute enthousiaste." Jean Claude Vantroyen, Le Soir Mad p.36, (21/01/2015)
"Dit is een pure jazzplaat, zoals er meer zouden mogen verschijnen in ons landje." Chris Joris, Jazzmozaiek p.47 (01/2015)
1. If I wear a bell
A. Pirodda - 05:02
2. A turkey is better eaten
A. Pirodda / B. Sluijs / M. Cabras / M. Patrman - 04:22
3. Falling fragments
A. Pirodda / B. Sluijs / M. Patrman - 01:52
4. Psalm nr.5
M. Patrman - 09:29
5. Blah Blah ... Bley
A. Pirodda - 05:39
6. Pea Road
A. Pirodda - 04:48
7. Scotty
M. Cabras - 01:50
8. Different corners
A. Pirodda / B. Sluijs / M. Patrman - 05:30
(not on vinyl)
9. Per Claudia
A. Pirodda - 03:35
10. Deep sea
A. Pirodda / B. Sluijs / M. Cabras - 05:04
(not on vinyl)
11. ESDA
M. Cabras - 05:27
total time 52:36
eNR020 © 2014
Buy CD
Buy Vinyl + download