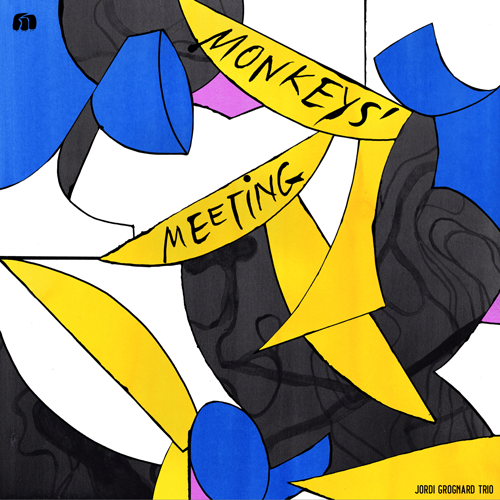 CD & Vinyl

Jordi Grognard - Tenor Saxophone, Bass Clarinet, Flute & Grailla
Manolo Cabras - Double Bass
Gaspard Six - Drums

Recording: Cyrille Obermuller at Studio 'La Conserve', Brussels, September 2021
Mixing: Manolo Cabras
Mastering: Giovanni Di Domenico
Production: Jordi Grognard & Rogé
Artwork: Noemie Couronne & Joal Grange
Photograph of Musicians: Theo Lanau
Available on CD & Vinyl
release ... 2023
(ENG)
Monkeys' Meeting is Jordi Grognard's first album as a (band)leader and harbours a trio consisting of Manolo Cabras on double bass and Gaspard Sicx on drums, Jordi playing tenor saxophone, bass clarinet and flute and bringing his compositions to the group's repertoire.

These three cats (or monkeys !) have been playing together for years on end, in and around Belgians music venues, allowing the music to evolve from jazz standards to original work.

Monkeys' Meeting brings engagement in music, generous and contagious, with that spark of fire acknowledging a deep respect for the masters Ornette Coleman, Don Cherry, John Coltrane and Youssef Lateef, and as quoting the 4-star review of Jean-Claude Vantroyen from Le Soir: "the music is free and incisive, but it is aesthetic and totally accessible."
Press
"... ." ..., ... (../../2023)
1. Monkey's Meeting
J. Grognard - 03:37

2. Kroon
J. Grognard - 02:34

3. Sun Raag
J. Grognard - 06:30

4. Gone, Yet Here
J. Grognard - 03:46

5. Infrabel
J. Grognard - 03:07

6. Grass Party
J. Grognard - 04:12

7. Nel Frattempo
J. Grognard - 05:04

8. Basmatea
J. Grognard - 04:35

9. Bamboo Song
J. Grognard - 04:03
total time - 36:30
eNR109 © 2023
Buy CD

Buy vinyl