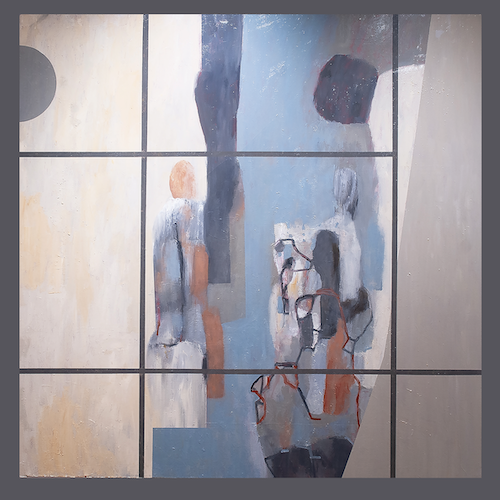 Bruce Lee Gallanter, the Downtown Music Gallery NY (02/12/2022)
The Wisdom Trio is Riccardo Luppi on soprano & tenor saxes & two flutes, Joe Fonda on contrabass and Filippo Monico drums. All of the tracks here were recorded in Milan, Italy in November of 2019. Italian reeds player, Riccardo Luppi, has collaborated with Giorgio Gaslini, Daniele Cavallanti and Nexus. Drummer Filippo Monico has worked a handful of lesser known Italian jazz players like Dimitri Grechi Espinoza, Massimo Falascone and the Gaetano Liguori Collective. More recently Mr. Filippo had a duo disc out with Tomeka Reid for the Relative Pitch label. Downtown contrabass master, Joe Fonda, needs no introduction here since he can be found on so many great discs: with Anthony Braxton, the Nu Band, Conference Call and for Michael Musillami.

A great contrabassist like Mr. Fonda can make a trio like this sound even better by holding down the center with the cosmic, organic throb. Mr. Luppi starts off on tenor sax, playing coyly, carefully, slowly at first. The first piece is called "Take the Journey" and Mr. Fonda's bass is featured playing a long robust, not bending solo which is extraordinary. Mr. Luppi also takes a strong, spirited, circular solo without any screaming or theatrics. The trio calm down for "Leave It on the Left Side" with Luppi on soft flute and Mr. Fonda's delicate, exquisite bass. I am not so sure how if these musicians played together before this date but they do sound like they have been playing together for a long while. The main vibe here is one that is calm at the center, free yet focused as the trio play together as one force of nature. The trio often sound like they are on the verge of flying apart yet always remain connected on an organic, natural level. Mr. Luppi switches to flute on "Wisdom", his tone mystical and haunting, sounding more like a bass flute. There times when Mr. Fonda speeds up and starts to spin these astonishing note-popping line which are at the center of his unique approach/sound. This is a near perfect, free trio date in which each element of the collective spirit is just right.