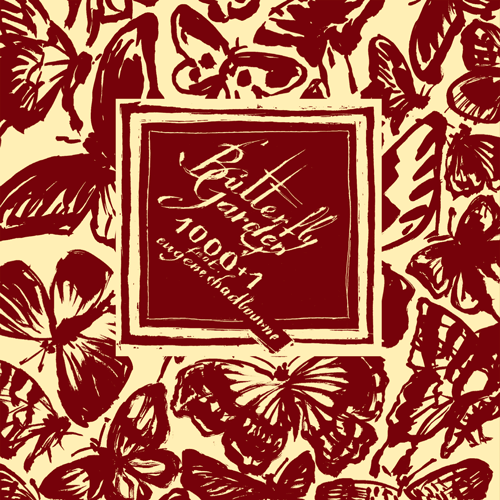 Stefan Pieper, Jazzthetik (../../2015) ****
"Jan Klare bringt gern den Punk in den Jazz hinein. Subversiver Freiheitsdrang und kompromisslose Ernsthaftigkeit zielen dabei auf eine "Forschung über Hörgewohnheiten" und deren Manipulation – so das erklärte Anliegen des in Münster lebenden Saxofonisten. Zwei aktuelle Alben seiner internationalen Bands beleuchten Randbereiche des Jazz, die gerne auch mal scharfkantig sind. Da ist die Band "1000" mit Jan Klare, dem Trompeter Bart Maris, Wilbert de Joode am Bass und Michale Vatcher am Schlagzeug. Hinzu kommt der US-Gitarrist und Banjospieler Eugene Chadbourne - und der liefert den kompositorischen roten Faden für jenen "Schmetterlingsgarten", nach dem das neue Album betitel ist. Wie ein solches Insekt schwirrt die Musik von einer Blüte zur nächsten und bewegt sich dabei assoziativ in einem freien, luftigen, Raum. Da wuchern polytonale Verwirrspiele und schweben Girlanden von Klares Flötenspiel durch den Raum - was manchmal an Stücke von Sun Ra erinnert. Mal verweilen die Stücke, bevor sie wieder vorwärts rasen – etwa in einer Art extrem beschleunigten Bluegrass. Eugene Chadbourne greift auch mal zum Banjo, wenn er zusammen mit Klares Saxofon eine engverzahnte Textur zur kompakten Klangstudie verdichtet. Hier gibt es kein Gestern und kein Morgen, aber ein umso schillernder aufblühendes Jetzt!"
Jenny Kracht, ... (../../2015) ****
"Klare, Maris, de Joode und Vatcher – vier Namen, die schon seit einer Dekade für die Auslotung besonderer Hörgewohnheiten stehen. Da sind sich Punk und Jazz oftmals ziemlich nahe. Ihr musikalischer Gast auf diesem Tonträger gibt auch gleichzeitig den Rahmen vor: Eugene Chadbourne, die Ikone des improvisierten Gitarren- und Banjospiels, der gern auch von John Zorn oder Fred Frith als Hauptinspiration genannt wird. Der Titel diese Albums bezieht sich auf Eugenes "Butterfly Songs", die allesamt die lateinischen Bezeichnungen von Schmetterlingen zieren. Ein avantgardistisch-jazziger Hörgenuss der Sonderklasse."
Hugo Truyens, Freejazzblog.org (02/03/2015) ***1/2
"It is strangely paradoxical that a free improvisation exercise can be taped and compared to another taped performance of the same pieces years later, with different people. These pieces are from a suite called "Butterfly Garden" and the Good Doctor Chadbourne vents in them a long time fascination with bugs, insects, creepy-crawlies and other entomological entities. This is the Bugworld Experience. I listened to the septet version first, still for sale from the good doctor's website, mainly because I discovered that it had Tobias Delius on sax and clarinet. It also had Wilbert de Joode on bass and Michael Vatcher on drums, as does the CD this review is about. The septet version is languid, in many places some slowed down footage of butterflies in motion, utterly mesmerizing.

So when I start the CD I am immediately alerted by a tribal rhythm and the call of the horn. This is Bart Maris on trumpet and when he is joined by Chadbourne on guitar and Klare on flute, I'm quickly drawn into a different garden. The Paris Swallowtail stutters by but once in a while his chitinous scales catch the light and reflect it, refract is it ? The butterfly names are headings for little Ornettian studies in musical behaviour. You need expert musicians for that, free musicians (Able to act or be done as one wishes; not under the control of another (OED)). Well, Jan Klare we know from the impressive Deep Schrott and the jolly gang called "The Dorf", Michael Vatcher is percussionist par excellence partout , one of the not so many that can turn a drumset into a wave, Wilbert De Joode provides solid underpinnings, Bart Maris is one of the true trumpet players (check his Krommekeer) and then of course there is the unforgettable loose cannon known to the world as Dr. Eugene Chadbourne. Dr. stands for draft refuser if I'm not mistaken. I could check. But my advice is that you go over to the Good Doctor's website and acquire some of his goodiebags (mine came in a sweatsock). He plays guitar and banjo on this outing and lends a distinctive edge to the proceedings. Long Dash Skipper is playing now and Chadbourne transforms it into a demented bluegrass lick. Playing the banjo is a hoot. Then touching on Reichian territory and off again in a skitterish rant. Not too shy either to dabble into a dirty sleazy bit of surfrock in Buckeye.

Improvisation is the process of devising a solution to a requirement by making-do, despite absence of resources that might be expected to produce a solution. The unifying moments in improvisation that take place in live performance are understood to encompass the performer, the listener, and the physical space that the performance takes place in. This is not me, it's Wikipedia. But it'll do.

The Silvery Blue unfurls its proboscis and strikes nectar. Sorry, couldn't resist."
Hessel Fluitman, Jazzflits 224, p.11 (06/10/2014)
"Het internationale kwartet 1000 is tien jaar actief in de impro-scene. En daarom heeft het een jubileum-cd opgenomen, waarop gastgitarist Eugene Chadbourne centraal staat. 'n Prettige weirdo. Voor 'Butterfly Garden' heeft hij acht composities gemaakt, die stuk voor stuk de naam van een vlinder dragen. Om maar met de deur in huis te vallen: sommige vlinders moeten wel overdonderend luid en agressief zijn. Het enthousiaste geluid dat de musici tevoorschijn toveren, lijkt te stoelen op grote, niets ontziende vleugelaars, die je zomaar kunnen platwalsen.
De 'California dogface' is een snel bewegende vlieger. De vijf heren maken van het stuk met die titel daarom een fantastische, collectief rockende improvisatie die er niet om liegt. De 'Regal frittery' is een echte Amerikaanse prairievlinder en 'dus' bespeelt Eugene Chadbourne zijn fretloze banjo in het nummer. Te oordelen naar het banjospel vliegt deze vlinder als een streep. Als de kwartetleden zich gaan roeren doen zij een poging de vlucht met hun groepsimprovisatie te beïnvloeden, maar Chadbourne blijft 'recht in de leer' en laat zich niet afleiden. Zijn spel doet me hier trouwens sterk denken aan het banjo spelen, zoals wijlen Pete Seeger dat wel placht te doen.
De muzikanten kunnen goed overweg met het materiaal van Chadbourne. Het afgemeten slagwerk van Michael Vatcher past daarin uitstekend. Bassist Wilbert de Joode leeft zich volop uit en ook de blazers ontwikkelen tal van ideeën. De banjo of gitaar van de componist mengen uitstekend in het geheel. Mister Chadbourne heeft daar goed over nagedacht."
Guy Peeters, Cobra.be (03/10/2014)
"Het internationale kwartet 1000 – de Duitser Jan Klare (altsax, fluit), Belg Bart Maris (trompet), Nederlander Wilbert de Joode (contrabas) en Amerikaanse Amsterdammer Michael Vatcher (drums) – kan een eclectisch en ellenlang palmares voorleggen. Op album #4, 'Butterfly Garden', wordt het gezelschap vergezeld door cultheld Eugene Chadbourne (gitaar, banjo).

De composities, met titels die verwijzen naar vlindersoorten, zijn allemaal van de hand van de gitarist. De bewegingen zijn daadwerkelijk zo abrupt als die van een vlinder en schieten van bezopen zwalpend spul uit de Lounge Lizards-school naar knetterende jazzpunk à la Zorn, open improvisatie en carnavaleske ongein met hee-haw banjo. Kleurrijk, nonchalant virtuoos en voorzien van een forse scheut humor."